---
Poggio Casale is a farmhouse dating from the end of the 1700s. Built on a hill overlooking Lake Chiusi, the water in the swimming pool mirrors the colours of the Lake. From the garden, you can hear the birds in the lake's heron breeding ground which "mainly in the movements and appearance will prove delighted" (Leopardi, A Eulogy of Birds). The garden is surrounded by our farm which is also home to a WWF Oasis. We have renovated the casale (farmhouse), combining traditional and contemporary styles, and in the garden we grow different varieties of roses, lavenders, herbs, and there is a hundred year-old fig tree whose fruit is ripe between the end of August and September. The gazebo by the pool is an attractive place if you have to work during your holidays!
You can also see migratory birds that fly to Northern Europe in the summer and return to the warmth of Africa in the winter and which stop at the lake on route.
The farmhouse, which can accommodate 7+2 guests, has two double rooms and one triple room with bathrooms, a living room with a sofa bed (king size), a large kitchen, laundry, garage and services, a swimming pool, and a garden of approximately 3,500 m2.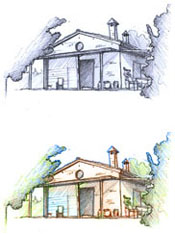 Poggio Pilella
Pilella is a farm where for three centuries country people have lived, loved and worked hard. Today, our family lives here, surrounded by woods which are home to a wide variety of wildlife and together we share this special place. Surrounded by olive groves and oak woods, the farmhouse overlooks Lake Chiusi.
Continue...
Azienda Agricola Poggio Pilella - Località Pilella, 26 - I-53043 Chiusi (SI) - Toscana - Italia - P.I.: IT00923390520
Cell: +39-339-1675588 - E-mail: poggiopilella@poggiallago.it

---
Azienda Agricola Sant'Andrea - Località Palazzuolo, 23 - I-53043 Chiusi (SI) - Toscana - Italia - P.I.: IT00388090524
Cell: +39-347-3336603 - Tel: +39-0578-222123 - E-mail: santandrea@poggiallago.it