---
Pilella is a farm where for three centuries country people have lived, loved and worked hard. Today, our family lives here, surrounded by woods which are home to a wide variety of wildlife and together we share this special place. Surrounded by olive groves and oak woods, the farmhouse overlooks Lake Chiusi and the 360° views are of farmland, gently rolling hills and the outlines of nearby towns such as Montepulciano, Cortona and Chiusi. The number of guests we can accommodate is small and this enables us to share our family life here with you; it also better respects your privacy and allows you to relax completely.
Within the grounds there are three cottages for two guests each. The cottage has its own veranda, laundry and a covered car space. All guests have access to a common library, located in the former "limonaia", where they can read, study or work, and a large swimming pool, surrounded by olive trees, is also here for you to enjoy.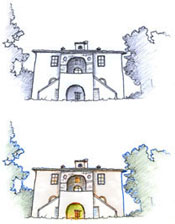 Poggio Casale
Poggio Casale is a farmhouse dating from the end of the 1700s. Built on a hill overlooking Lake Chiusi, the water in the swimming pool mirrors the colours of the Lake. From the garden, you can hear the birds in the lake's heron breeding ground which "mainly in the movements and appearance will prove delighted" (Leopardi, A Eulogy of Birds). The garden is surrounded by our farm which is also home to a WWF Oasis.
Continue...
Azienda Agricola Poggio Pilella - Località Pilella, 26 - I-53043 Chiusi (SI) - Toscana - Italia - P.I.: IT00923390520
Cell: +39-339-1675588 - E-mail: poggiopilella@poggiallago.it

---
Azienda Agricola Sant'Andrea - Località Palazzuolo, 23 - I-53043 Chiusi (SI) - Toscana - Italia - P.I.: IT00388090524
Cell: +39-347-3336603 - Tel: +39-0578-222123 - E-mail: santandrea@poggiallago.it